We've been conditioned to expect professional photography in official or business communication. In the past, I've told many clients that the pictures they've taken on their phone will not cut it for their brand spanking new website. But the winds are changing, and it may be time to look at photographs differently.
With the advent of camera phones, everybody suddenly became a photographer. Due to this, platforms such as Tumblr, Instagram and Pinterest are successfully pushing image heavy content. This encourages us to share pictures of everything, from our last half-skimmed soy macchiato to our daughter's first steps. Life has developed the potential to be very public. Fortunately it still remains up to us to choose exactly HOW much we want to share.
Personal is best (?)
I keep talking about the importance of showing personality in branding. Photographs can be a great way of doing this, and it's easy to see why. If you share a picture of your office dog doing a silly thing, you are saying that you're up for a little fun. This attracts people who like dogs, and people who like a bit of silliness.
Many small businesses are realising that mixing personal shots into their social media feeds helps engagement. It seems like we're a bit fed up with perfectly planned, pre-chewed content. We like things to be real. And the dog messing up the office is something we can all relate to. You are allowing your clients a glimpse of your day to day life, which can really strengthen your brand. I can certainly recommend bringing some personal elements into the business - as long as you are comfortable doing so.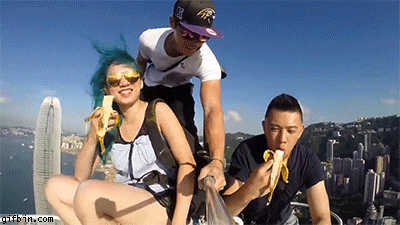 Personal - but HOW personal?
This is a question best answered with a healthy dose of common sense. Unless you are a makeup artist, clients probably don't want to see your selfies all the time. In the same way, pictures of pets can get a bit overwhelming if there's simply too many of them. As a rule of thumb, I would suggest a ratio of professional content to personal content of no less than 2/3 to 1/3. This is a flexible ratio, and some sectors get away with using a lot of personal content, when others don't. Yes, I want to know my accountant is a real person, but I don't need to know what (s)he had for dinner. Unless, that is, it was at a business-related event, where (s)he met up with loads of interesting people.
Personal doesn't mean you can skimp on quality
Although personal phone photographs get away with being of a lower quality than professional photographs, that doesn't mean that bad images will work for you. With bad I mean photographs that are poorly composed, poorly lit, or don't show the subject in a good light.
If you take photos to use for your business, I would definitely recommend watching a few videos on composition and post-processing. Even a person who isn't very visually literate can tell when a photo isn't good. They just won't be able to tell you why it isn't good. And because everybody is now a photographer, there are A LOT of images on the internet. A certain visual consistency, together with content consistency, will help your feeds stand out. Always think about what you want to say with your photo - this will help you decide how best to say it.
Branding from personal photographs
In a personal first, I am currently doing a project where I am basing the entire brand refresh heavily on my client's insta feed. She does have a fabulous, very visually consistent insta feed, which mixes personal shots with images of her products. She takes and edits all product images on her phone. We first thought that was going to be a problem for the new website, because she deals with very high-end clients. However, we decided that her bright and quirky personality is her best selling feature - proven by an insta feed which actually brings her business.
I never thought I'd get off my "you have to have proper photographs" high horse - until I realised that "proper" does no longer mean "professional". It is also possible to have a ton of personality injected into professional photographs. However, small brands can now benefit massively from using their own, personal photographs to tell their clients who they are. And that's pretty fantastic, you have to agree.
-------------------------
Read the other articles in this series:
Branding Beyond: the Logo, and
Branding Beyond: the Strapline
Want to learn more about Branding for Small Businesses?
My monthly newsletter has tons of tips how you can make your own brand stronger without throwing lots of cash at it.